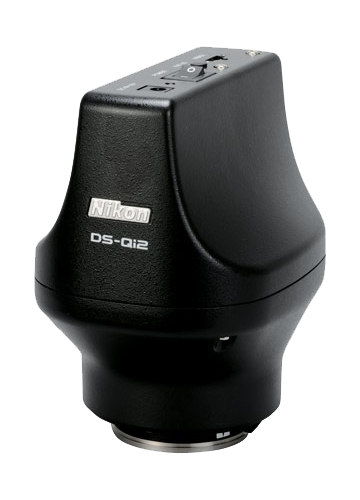 DS-Qi2 microscopy digital camera equipped with a Nikon digital SLR camera FX-format CMOS sensor optimized for microscopy.
High Sensitivity and Low Noise
The newly developed 16.25-megapixel monochrome CMOS sensor for the monochrome digital camera for microscopes offers 36.0 x 23.9 mm image size. The S/N ratio is five times better than that of conventional models, with quantum efficiency* up to 77% and 2.2-electron readout noise. In addition, Peltier cooling (electronic cooling) reduces dark-current noise** and produces clear images with reduced noise even with dark fluorescent specimens.
*Conversion efficiency from light to electrical signals.
**Noise caused by heat from the sensor during lengthy exposures.
Superior Quantitative Performance
Low ± 1% linearity error of output power to input light intensity enables correct measurement of changes in brightness of specimens.
High-speed Llive-image Display
Thanks to the USB3.0 computer connection and CMOS sensor, which provides high-speed data readout, the frame rate has been significantly improved to 45 fps (1636 x 1088 pixels), from 19 fps (1280 x 1024 pixels) with conventional models. This enables fast live-image display and easy observation point selection and focusing.
Image Sensor

Nikon FX-format, Monochrome CMOS senser / Size: 36.0×23.9mm

Effective 16.25 megapixels

Recordable Pixels

4908×3264 pixel (full-pixel), 1636×1088 pixel (3×3 pixel averaging)

Cooling Method

Electronic cooling

ISO Sensitivity

(recommended exposure index)

Standard: equivalent to ISO 800 (Selectable from ISO800 to 51200 equivalent

Live Display Mode

Full-pixel 4908×3264 pixel (max 6fps) / 3×3 pixel averaging 1636×1088 (max 45fps)

Lens Mount

F mount

Exposure Time

100 μsec to 60 sec

Image Format

BMP, TIFF, JPEG, etc., selectable in NIS-Elements

Interface

USB3.0 (computer control connection) ×1, External sync input/output ×1

Power Supply

AC100-240V 50/60Hz

Power Consumption

24W

Dimensions

105 (W) × 134 (D) × 153 (H) mm

Weight

1200g (2.6lb)

Operating Environment

0-30°C, 80% RH max, 30-40°C, 60% RH max. (without condensation)