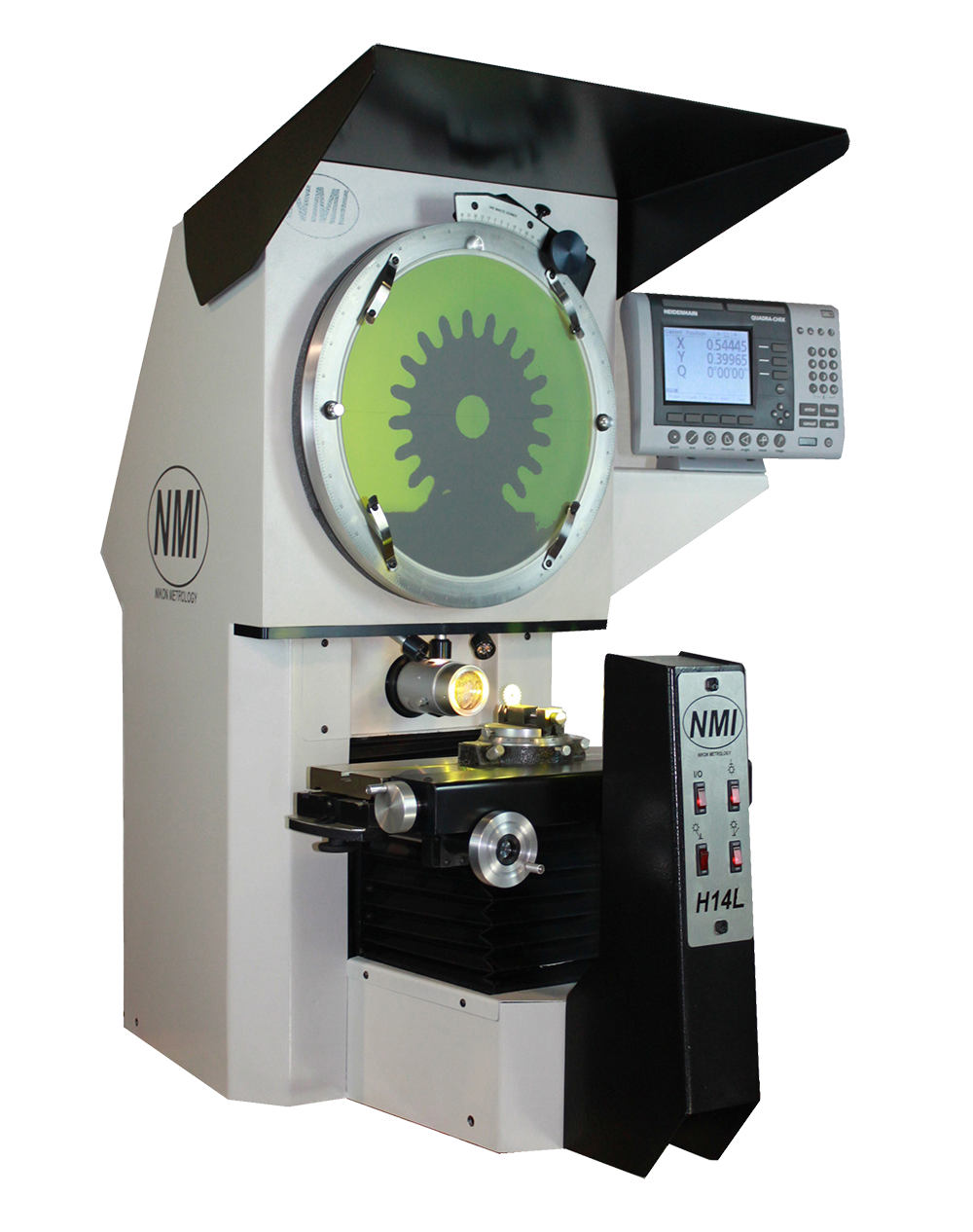 The NMI H14L has the finest resolution, clarity, contrast, and edge-to-edge image sharpness available in a 14" comparator. The H14L features LED Illumination, High resolution 12"x6" travel stage, and Encoded Q-axis readout as standard
World Renowned Nikon Optics
Provides the finest resolution, clarity, brightness and overall image sharpness within the field of view.
Choice of 5x, 10x, 20x, 25x, 50x, and 100x Projection Lenses
"NEW" - Quick-change lens mount design
Superior Illumination
Energy Efficient, Bright and Dependable All-LED Illumination
LED TTL – (Through-the-Lens) Surface Illumination
LED Off-axis Oblique, Surface Illumination (adjustable)
Green LED Contour/Profile Illumination
Universal Condensing System (10x through 100x)
Large Screen
14 in. round (360mm), gear-driven, encoded, glass screen with 90 degree crossline and vernier that rotates a full 360° for easy measurement
Q-Axis Electronic output to DRO
Erect image offers a fully-corrected surface illumination image
Optional Erect and Correct models available
Linear Encoder Stage
Linear encoded stage including twin universal dovetail slots for quick and easy part fixturing
12 x 6 in. stage (standard) and optional 20 x 6 in. stage available.
Digital Readouts
Digital readout/geometric data processor offers all the functions for measuring 2D geometries and displaying the Protractor angle (Q-axis)
Ergonomic and Easy to Operate
Screen height and angle designed for maximum viewing comfort.
Conveniently positioned controls reduce operator fatigue.
Objectives

5x, 10x, 20x, 25x, 50x, 100x

Screen

14 inch (360mm) ground-glass screen with etched cross line, rotates 360° with a 1 minute Vernier

Illumination

Energy Efficient LED, fuse-less circuit breaker on/off switches

Stage

Standard 12 X 6 in. linear encoder stage with cross bearings in 3 axes (20 x 6 in. upgrade available as option)

Readout

Digital DRO with protractor angle included

Travel

X= 300mm / 12 in

Y= 150mm / 6 in

Z= 38mm / 1-1/2 in

Accuracy

X= ±4 + L/25 µm

Y= ±4 + L/25 µm

Repeatability

± 1 µm / 0.000039 in

Dimension of Top Plate

20 x 5 in (508 mm x 127 mm)

Perpendicularity (X to Y axis)

± 10 µm / 0.00039 in

Maximum Specimen Diameter/Height

150mm / 5.9 in

Maximum Specimen Weight

57 kg / 125 lb.

Scale Resolution

0.0005mm / 0.00002 in

Main Body

33" x Width: 30" x Height: 43" (838mm x 762mm x 1092 mm)

Base Cabinet

686 x 565 x 730mm (27 x 22.25 x 28.75 in)

Floor Space

1016 x 1016mm (40 x 40 in.)

Power Supply

110 / 240 VAC

Weight

136 kg / 300 lb. (10" stage), 157 kg / 345 lb. (20" stage);

Add 32 kg / 70 lb. for shipping