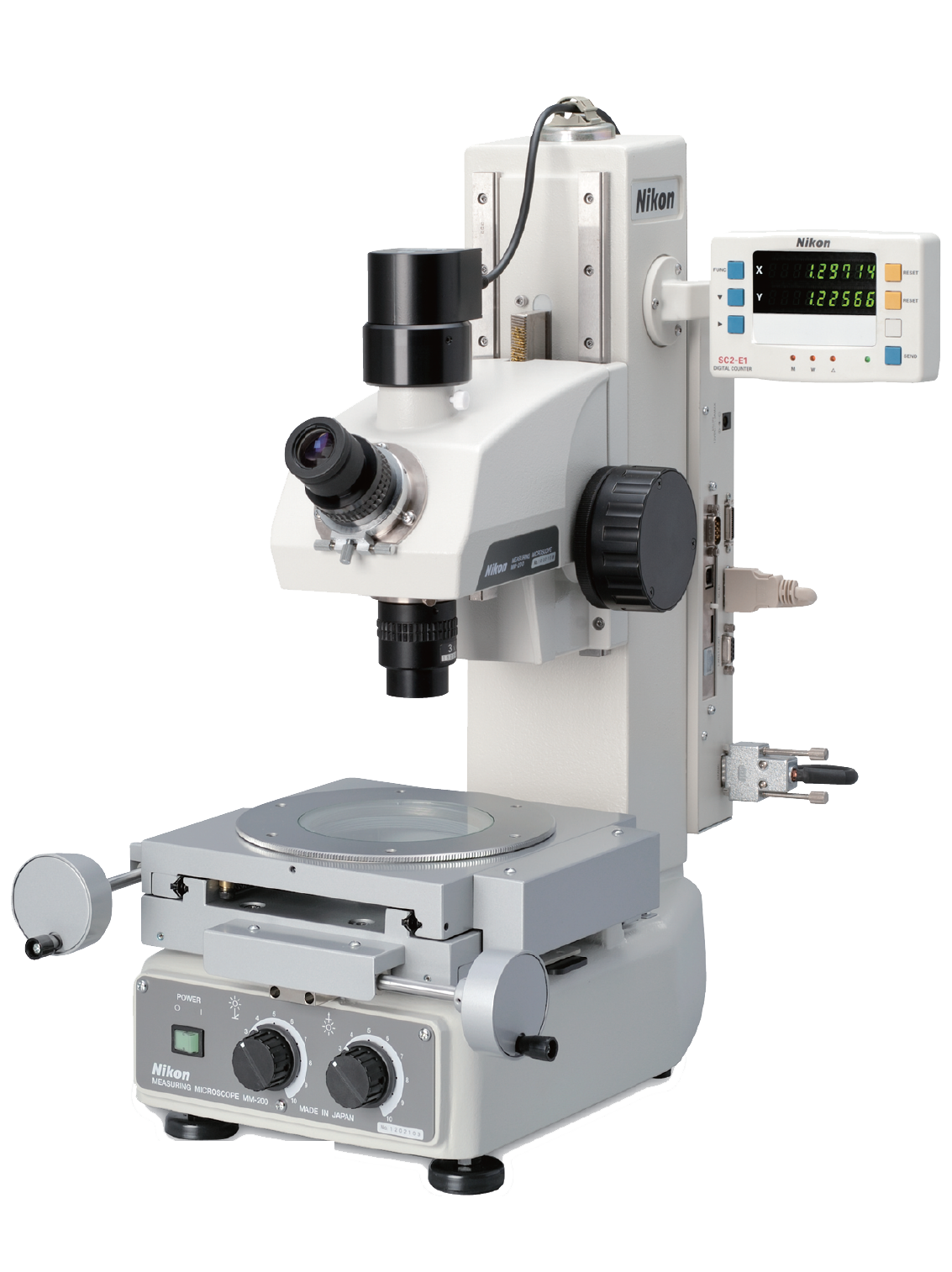 Nikon's new MM-200 Measuring Microscope is compact and lightweight with an affordable price for all who require precision and accuracy for measuring a variety of metal, plastic, and electronic parts in all industries; especially automotive and electronics. This powerful new microscope is especially designed and engineered with the machining engineers and inspectors in mind.
Compact, Space-saving Body
The MM-200 features a space-saving design with a footprint of just 420 x 297 mm (main body with monocular eyepiece tube). In addition, the system weighs just 40kg.
New Mechanical Design for Focusing Motion Control
Focusing motion control mechanics is newly designed to optimize the use of frequently used objective lenses from 1x to 10x.
Built-in Stage
No stage installation work is necessary and the footprint has been reduced by 50% compared to existing Nikon MM models.
Contamination Protection Design
The stage lead screw is sealed in order to protect the MM-200 from contamination generated from the adjacent machinery on the production floor.
High Intensity White Light LED
No halogen bulb needs to be changed and light source running cost is reduced since both diascopic and episcopic illuminators employ a high intensity white LED light source.
Controller Backpack Interface
The MM-200 has the backpack control interface unit for XY stage scale readout, illumination control, communication ports to external devices such as PC, digital readout and more. Simply apply the DP-E1 Data Processing Unit to intricate GD&T measurements. The E-MAX DS-V system allows easy-to-use advanced video edge detection technologies. Popular digital readout instruments, such as Metronics Quadra-Chek300, are also available.
| | |
| --- | --- |
| Optical Head | MM-200 Monocular Optical Head or C-Mount Video Head for MM-200 |
| XYZ Stroke | 50mm X 50mm X 110mm |
| Stage Accuracy | 2.5 + L/50 μm (with LEC), 3 + L/50 μm (L=Measurement Length in mm) |
| Scale Resolution | 0.01/0.1(default)/1/10 μm |
| Max. Loading Weight | 2 kg for Guaranteed Accuracy / 5 kg for Operation |
| Magnification Accuracy | 0.1% |
| Objective Lenses (W.D.) | Standard: 3x (75.5mm) Optional 1x (79mm), 5x (64mm), 10x (48mm) |
| Light Sources | Standard: Diascopic/Episcopic (White LED), Optional: 8-Segmented Ring Light (White LED) |
| Dimension & Weight | 316 x 455 x 533 (W x D x H), 40 kg |
| Input Voltage Range | 100 - 240 V (Max. 1.8 A) |