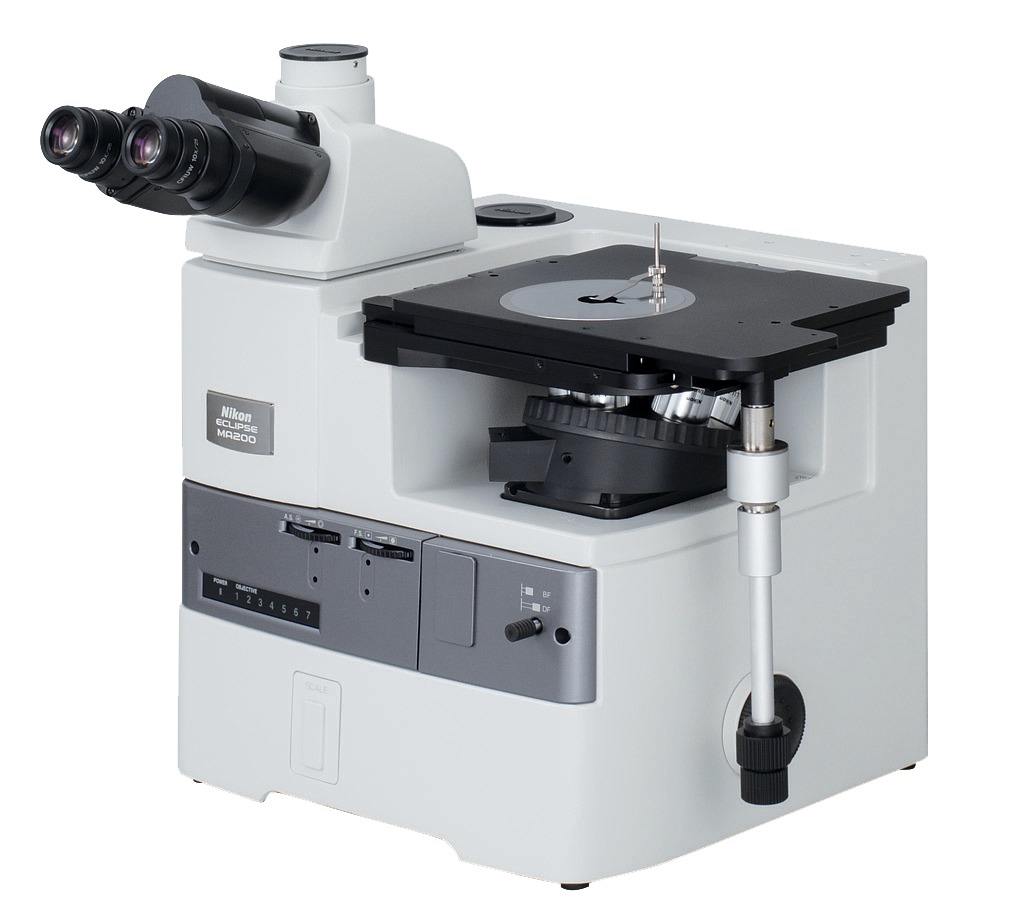 Introducing Nikon's most advanced metallurgical microscope
The Eclipse MA200 is an inverted materials microscope with an innovative design that has been optimized for digital imaging and ergonomic efficiency. The MA200 uses integrated intelligence to automatically combine captured images with data on their observation settings for more comprehensive documentation. Additionally, its new and unique box design allows easy access to the sample on the stage and nosepiece, while making the footprint size one third of the conventional model.
Applications:

Metallurgy, metal manufacturing
Cast iron nodularity and flake analysis, grain sizing
Surface examination
Antennae, telescope optics
Telecom and electronics
Mobile phones, shavers, and watches
Compact, Durable Design
The compact design employs internal turrets that keep dust off the illumination filters, maintaining bright uniform illumination. Also, the power supply is built-in to save space.
Steady box-type main body
Out-and-out front-operation
High sample visibility
Turret-type filter system
A / P synchronized mechanism
Aperture diaphragms synchronized with B / D changeover
Flare prevention mechanism
Low power-consumption, but brightness is higher than that of 12V-100W.
Dustproof & antistatic body
User-Friendly Operation
Controls - All controls are on the front of the instrument for maximum operability.
Quick Status Check - The observation position of the objective lens and sample can be checked easily from the microscope's front panel.
Analyzer/Polarizer Interlock Mechanism- Links the attachment/release of the analyzer/polarizer.
Brightfield/Darkfield Auto-aperture Switching - The field stop and aperture stop automatically open when switched from brightfield to darkfield. When returning to brightfield observation,the previous field and aperture stop settings are reproduced.
Flash Prevention Mechanism - Reflection flashes when switching objective lenses are automatically prevented.
World-class CFI60 Optical System
Nikon's world-class CFI60 optics provide clear, high-contrast brightfield images and darkfield images with three times the brightness of conventional models.
Features:
Top optical performance in all observation methods
Optimized for advanced digital imaging
Provide flat and sharp images
Lead-free optical system
Newly developed metallurgical objectives available
Extra low magnification objective 1x, 2.5x with excellent flatness
Top quality high magnification objectives (50x, 100x)
Even Illumination
Improved uniformity of illumination delivers clear images, especially for digital imaging.
Wide Field of View
The MA200 features a super-wide field of view with an eyepiece diameter of 25mm. With the combination of the newly developed 1x objective lens, a sample of 25mm diameter can be observed in a single field of view.
Image Analysis
Nikon's DS-U2 Camera Control Unit and NIS-Elements Imaging Software allow the user to perform everything from basic image capture to the measurement, analysis, and management of captured images.
Status Display
Displays information such as objective lens magnification and illumination conditions. The calibration data is automatically changed when the objective magnification is changed. This feature makes the measurement function and other optional software modules such as grain sizing and cast iron analysis module in the NIS-Elements easy to use.
Quantitative illumination adjustment, which is crucial when acquiring the optimum settings for observation, image capture and especially large image stitching, can be made via PC control.
Stitching
Adjacent images can be put together to create an image with a wide field. It is now possible to capture even more vivid images due to the improved uniformity of the illumination system.
Grain Size Measurement
Measures grain size and displays results based on JIS and ASTM standards.
Graphite Nodularity Measurement
Measures the graphite nodularity of ground cast iron and displays results based on JIS nd ASTM standards.
Image Capture
DS-L2 Camera Control Unit
Built-in, high-definition, large 8.4-inch XGA LCD screen lets you view & discuss the sample without the need to look in the eyepieces.
Easily Save/Print Data
Captured images can be saved to USB memory or a CF card. In addition to printing directly via a PictBridge-compatible printer, you can save data onto a server over a LAN.
Status Display
Displays information for the objective lens and illumination conditions. Since the correct calibration data is automatically changed when changing magnification, the DS-L2's simple measurement function can be easily employed.
Quantitative illumination adjustment can be made manually by viewing the voltage value. This is crucial when acquiring the optimum settings for observation and image capture.
Energy Saving
The 50W halogen light source realizes the same brightness as the previous 100W light source with only about half the power consumption.
Accessories
LV series motorized nosepiece
Abundant sample holder
DIA pillar
INTENSILIGHT fiber illumination system
Magnification module
Main Body

Focusing mechanism

Focusing nosepiece (Fixed stage) Coaxial coarse/fine adjustment knob (torque adjustable)
Coarse adjustment of 4.0 mm per rotation, fine adjustment of 0.2 mm per rotation

Illumination
With flare prevention, Built in UV cut filter
Field diaphragm: dialing continuous variable (centerable), Aperture diaphragm: dialing continuous variable (centerable)
Filter: Double turret (ND16, ND4/GIF, NCB, Additional option available), Polarizing block (Selectable with or without 1/4 Plate)
Fluorescence filter blocks: B/G/V/BV, Built in 12V50W halogen lamp, C-HGFI HG Fiber Illuminator

Light distribution
Eyepiece tube/Back port: 100/0, 55/45

Optics

CFI60 /CFI60-2 system

Observation Image

Surface Image

Observation Method

Bright/Darkfield/Simple Polarizing/DIC/Epi-Fluorescence

Resolving Nosepieces

MA2-NUI5: Bright/Darkfield/DIC 5 position nosepiece, LV-NU5A: Motorized Bright/Darkfield/DIC 5 position nosepiece

D-NID6: Brightfield 6 position nosepiece (Intelligent), D-NI7: Brightfield 7 position nosepiece (Intelligent)

Stage

MA-SR Rectangular 3-plate Stage

50 x 50 mm stroke (includes two stage inserts (ø20mm and 40mm opening) and coaxial control handle on the right side
Dimension: 295 x 215mm, Stroke: 50mm x 50mm (with distance graduation), Standard accessory: ø22 universal specimen holder (with sample clip)

Trinocular Eyepiece

Seidentopf, interpupillary distance adjustment 50-75mm

Power Input

100-240V, 50-60Hz

Electrical Power Consumption

1.2A 75W

Weight

Approx. 26 kg (depends on combination)

Option

Intermediate magnification

Turret (1x, 1.5x, 2x), Status detection (Output magnification information to main unit)

Scale
MA2-GR Grain Reticle (ASTM E112-63 grain sizing numbers 1 to 8), Grid Reticle(20 lines, 0.5mm)
MA2-MR Scale Reticle (compatible with 5-100x, Read in um, Dialing System)