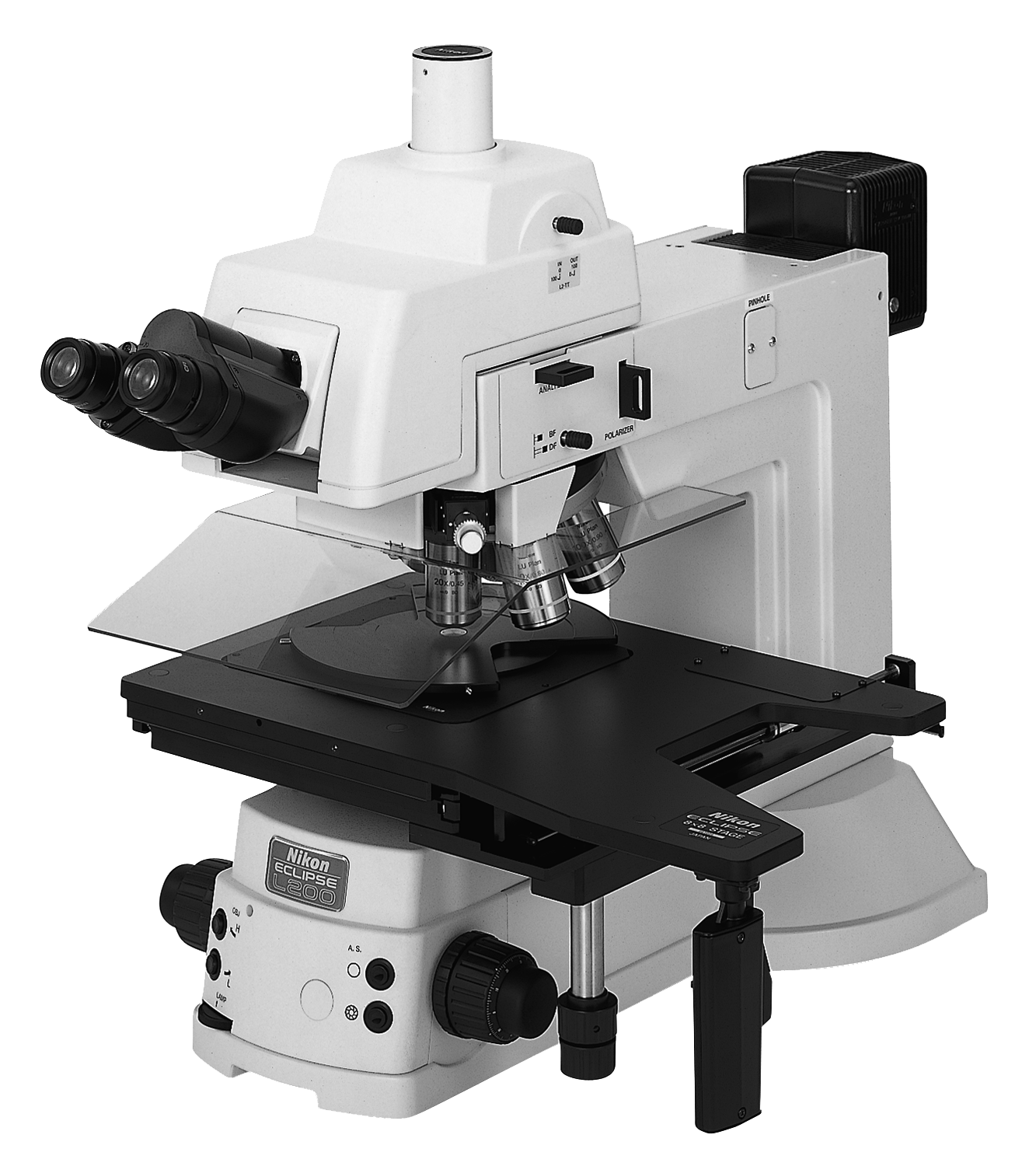 Incorporating CFI60 optics for flawless inspection of 200mm wafers and masks
Combined with Nikon's superior CFI60 LU/L optical system and an extraordinary new illumination system, this microscope provides images with greater contrast, high resolving power and darkfield images three times brighter than before. Used independently, or in combination with wafer loaders, the L200 series performs exceptionally precise optical inspection of wafers, photo masks, reticles and other substrates.
Applications:

Antennae
Telecom and electronics
Wafers
Telescope optics
Mobile phones, shavers and watches
3 Models to Choose From
L200: Offers 200mm wafer and mask inspection capabilities for reflected light illumination defect identification with various observation methods such as brightfield, darkfield, simple polarizing and DIC.
L200ND: Offers 200mm wafer and mask inspection capabilities for both transmitted and relfected light illumination. In addition to the observation methods of the L200N, epi-fluorescence observations including 365nm UV exicitation is possible.
Contamination Safeguards
The bodies of these microscopes are finished with electrostatic discharge coatings to prevent foreign particles from adhering to the microscope. Furthermore, the motorized nosepiece uses a shielded center motor that traps foreign particles inside, preventing them from falling onto the sample.
High Intensity Halogen Illumination
The high intensity 12V-50W halogen illuminator, (LV-LH50PC) provides greater brightnessthat than of a 12V-100W halogen illuminator with half the power consumption. This new lamphouse incorporates a rear mirror and optimized lamp filament size to allow effective and uniform illumination on the pupil plane which is critical in an optical plane.
Improved DIC Microscopy
Nikon's CFI LU Plan objectives allow the use of multiple observation techniques, including brightfield, darkfield, and Nomarski DIC using a single objective. For DIC, simply insert a single Nomarski prism into the nosepiece that works for all magnification ranges.
SEMI S2-0200, S8-0600 Compliant Design
Incorporating a SEMI-compliant design, controls and knobs are positioned low and close to the operator while the eyepoint is set at the ideal height for comfortable operation. With the controls located comfortably in the microscope base, hand movement is minimal, allowing concentration on the inspection process. The eyepiece is moved closer to the operator so that he or she can assume a more erect sitting posture. This also positions the operator farther from the stage to provide a more ergonomic and safe viewing position.
Tilting Eyepiece Tube
The eyepiece tube is of the trinocular tilting type, allowing continuous adjustment of the tilt angle from 0° to 30° for viewing at the optimum eyepoint level. The eyepiece also features an ultra-widefield design and has an F.O.V. of 25mm.
Fixed-Position X-Y Fine-Movement Controls
The X-Y fine-movement controls remain in the same position, close to the front, for a comfortable viewing posture regardless of the stage position. In addition, these controls, plus the focus knob, are located close to each other so you can operate both with one hand.
Motorized Nosepiece with Software Control
The motorized universal nosepiece for the L200N series microscope has improved centricity and is three times more durable than conventional models. It also contains an anti flash mechanism to protect the operators eyes when the nosepiece is rotated. The L200A built in motorized nosepiece includes a slot for DIC attachments, features a mechanical click stop and is controlled by software that enables the system to stop precisely at each respective objective position.
CFI60 Optical System
Provide outstandingly clear, sharp images with longer working distances, high numerical aperture (NA) and minimal flare. Signal to background ratios during darkfield observations are three times better than before to provide outstanding high contrast images ideal for high precision observations.
Vibration Isolation
Applying computer-aided engineering (CAE), Nikon increased the rigidity of the L200 series dramatically, making these microscopes three times less susceptible to floor vibrations when compared with conventional equipment. This, in turn, reduces the chance of unwanted blur or image shifts even during high magnification observations. While this superior design increases stability, it also results in a smaller footprint.
| | |
| --- | --- |
| Eclipse L200N Series Specifications | |
| Main Body | Built-in Episcopic Illumination; built-in power sources for motorized control; motorized control for nosepiece; light intensity control; aperture diaphragm control |
| Focusing Mechanism | Cross travel: 29mm; Coarse: 12.7mm per rotation (torque adjustable, refocusing mechanism provided); Fine: 0.1mm per rotation (in 1µm increments) |
| Episcopic Illuminator | 12V/100W halogen lamp light source built-in; motorized aperture diaphragm (centerable); fixed field diaphragm (with focus target); pinhole slider (optional) can be mounted; four 25mm filters (NCB11/ND4/ND16/GIF) can be mounted; polarizer; analyzer |
| Nosepiece | Fixed-motorized Sextuple Universal Nosepiece; slot for DIC attachment provided |
| Eyepiece Tube | L2TT Ultrawide tilting trinocular eyepiece tube (tilt angle 0-30°, erect image); F.O.V.: 25mm; optical path changeover: 2-way (binocular:photo 100:0/0:100) |
| Stage | 8 x 8 Stage; stroke: 205 x 205mm; coarse/fine movement changeover possible; fixed-position X-Y fine-movement controls |
| Eyepieces | CFI eyepiece lens series |
| Objectives | CFI60 LU/L Plan series |
| Weight | 43.75 kg (96.45 lbs) when 8 x 8 stage and L2TT eyepiece tube are used |
| Compliance | SEMI S2-93A, S8-95, CE, UL |
| L200A | |
| Observation Method | Brightfield, Darkfield, DIC, Simple Polarizing |
| Main Body | Episcopic Stand with attached Universal Nosepiece - Power Supply built-in |
| Focusing Mechanism | Stroke: 29mm; Coarse: 12.7mm per rotation (torque adjustable, focusing stop mechanism provided); Fine 0.1mm per rotation (in 1µm increments); Guide: 4-guide (two roller-race, torque adjustable) |
| Episcopic Illuminator | Motorized aperture diaphragm (centerable, pinhole slider incorporated); fixed field diaphragm (with focus target); four 25mm filters (NCB11/ND4/ND16/GIF) can be mounted; Polarizer; Analyzer |
| Light Source | 100W Halogen - 100W Mercury - 75W Xenon - 150W Metal Halide |
| Eyepiece Tube | UW Tilting Trinocular Eyepiece Tube (tilt angle 0-30°, erect images); F.O.V.: 25mm; Optical Path Changeover: 2-way (Binocular: Photo 100:0/0:100) |
| Nosepiece | Fixed-Motorized Sextuple Universal Nosepiece (centerable), highly durable |
| Stage | 8 x 8 Stage; Cross Travel: 205 x 205mm, Coarse/line-movement changeover: manual; waferholders: 5-8 inch, Mask Holders 5-6 inch |
| Control | Front Panel: Nosepiece rotation buttons, Episcopic aperture diaphragm stop buttons, light intensity control knob; Remote Control: LCD panel, magnification changeover, motorized z-axis, episcopic aperture diaphragm stop buttons, light intensity control knob, motorized bright/darkfield changeover key, DIC adjustment knob, option keys |
| Eyepieces | CFI Eyepiece Lens Series |
| Objectives | CFI LU/L Plan Series |
| Auto Focus Unit | Optional (LED) |
| Communication | RS-232C |
| Weight | Approximately 45 kg (when 8 x 8 Stage and UW Eyepiece Tube are used) |
| Compliance | SEMI S2-0200, S8-0600, CE, UL |
| L200D | |
| Main Body | Built-in Diascopic and Episcopic Illumination; built-in power sources for motorized control; motorized control for nosepiece; light intensity control; aperture diaphragm control; episcopic/diascopic changeover |
| Focusing Mechanism | Cross travel: 29mm; Coarse: 12.7mm per rotation (torque adjustable, refocusing mechanism provided); Fine: 0.1mm per rotation (in 1µm increments) |
| Episcopic Illuminator | 12V/100W halogen lamp light source built-in; motorized aperture diaphragm (centerable); fixed field diaphragm (with focus target); pinhole slider (optional) can be mounted; four 25mm filters (NCB11/ND4/ND16 and GIF) can be mounted; polarizer; analyzer |
| Diascopic Illuminator | 12V/100W halogen lamp light source built-in; aperture diaphragm and LWD condenser built-in |
| Nosepiece | Fixed-motorized Sextuple Universal Nosepiece; slot for DIC attachment provided |
| Eyepiece Tube | L2TT ultrawide tilting trinocular eyepiece tube (tilt angle 0-30°, erect image); F.O.V.: 25mm; optical path changeover: 2-way (binocular:photo 100:0/0:100) |
| Stage | 8 x 8 Stage; stroke: 205 x 205mm (diascopic observation range: 150 x 150mm); coarse/fine movement changeover possible; fixed-position X-Y fine-movement controls |
| Eyepieces | CFI eyepiece lens series |
| Objectives | CFI60 LU/L Plan series |
| Weight | 44.45 kg (97.99 lb) when 8 x 8 stage and L2TT eyepiece tube are used |
| Compliance | SEMI S2-93A, S8-95, CE, UL |