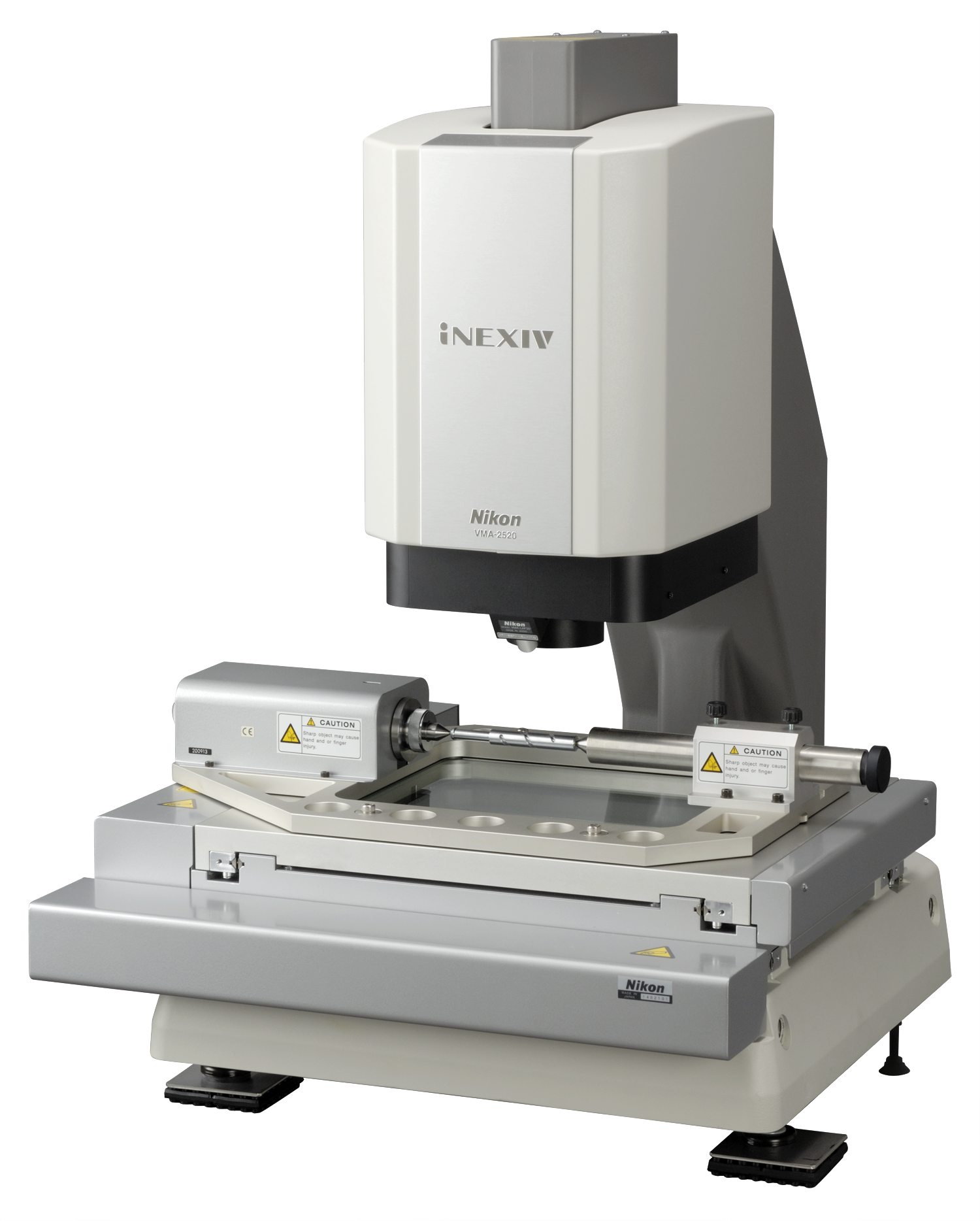 The iNEXIV VMA-2520 is a new multi-sensor measuring system that's lightweight and compact enough to be used in the factory on the bench top, with fast, fully automatic and high accuracy features that make it ideally suited for a wide variety of industrial measuring, inspection and quality control applications. The iNEXIV is designed to measure 3D workpieces, is touch probe ready, integrates the latest imaging processing software and incorporates a new 10x optical zoom system and Laser Auto Focus option.
Compact and Lightweight
The iNEXIV VMA-2520 is a powerful bench-top system designed to use minimum factory floor space. The main body has a footprint of only 565 W x 690 D x 740mm H (computer and controller separate) and weighs only 72kg (158.7 lb), yet it still has a 250 x 200 x 200mm measuring capability.
High-speed, Highly-accurate Laser AF (Optional)
In addition to the standard Vision AF, an optional high-speed Laser AF with a long 63mm working distance is available. It provides fast focusing and Z-axis measurements regardless of the surface shape of your workpiece.
Stroke (X x Y x Z)

250 x 200 x 200mm (10 x 8 x 8 in)

Minimum Readout

0.1µm

Maximum Workpiece Weight

15kg (up to 5kg accuracy guaranteed)

MPE*

XY MPEE1: 2+8L/1000µm

XY MPEE2: 3+8L/1000µm

Z MPEE1: 3+L/50µm

Camera

1/3-in. 3CCD color

Progressive scan (B/W optional)

Working Distance

73.5mm (63mm with LAF)

Magnification

Optical: 0.35 to 3.5x

On screen: 12 to 120x (with 17 inch monitor at SXGA resolution)

FOV size

13.3 x 10 to 1.33 x 1mm

Auto Focus

Vision AF and optional Laser AF

Illumination

(Nothing in this field on website)

Contour Illumination

White LED illumination

Surface Illumination

White LED illumination

Oblique Illumination

8-segment white LED ring

Video Resolution

640 x 480 (pixels)

Touch Probe

Renishaw® TP200/TP20 (option)

Power Source

100-240V, 50/60Hz

Power Consumption

5-2.5A

(excluding power consumption of host computer and its peripherals)

Dimensions & Weight

(FIELD LEFT BLANK ON WEBSITE)

Main Body (W x D x H)

565 x 690 x 740mm (minimum height), 72kg

Controller

145 x 400 x 390mm, 13kg

Table for Main Body (Option)

600 x 700 x 825mm, 38kg

Recommended Workbench

Min. load capacity 1000kg or more

Operational Environment

(FIELD LEFT BLANK ON WEBSITE)

Temperature

10 to 35ºC

Humidity

70% or less

CPU

Intel® Core Duo 1.8GHz or faster

Memory

1G or more

Operating System

Windows® XP Pro SP2 or later

Interface

USB2.0/IEEE1394